---
---
Ecotech Marine Radion XR30 G5 Pro
The next level of LED lighting
The Radion® G5 features a whole new LED cluster. The rebalancing of proven colors combined with the addition of warm white and violet takes color rendition for your corals to the next level. The reconfiguration of the clusters compliments the all-new HEI lenses to deliver balanced color mixing better than ever before.
HEMISPHERICAL EDGE ILLUMINATION
Generation 5 includes the most sophisticated lens design available. HEI lenses deliver the light uniformity and color mixing of halide T5 combo without sacrificing the power and efficiency of the LEDs.
COMPARISON
How impressive is the new HEI lens design? Just compare the previous generations of Radion® lenses, which utilized the best optical technologies of the time. Observing the respective PAR distribution of the reflector and TIR lenses, it is immediately apparent that HEI Optics offer a significant improvement from the perspective of providing usable coverage.
QUIET ACTIVE COOLING 
The G5 heat sink has been designed from the ground up to maximize surface area and allow for superior heat dispersion. Multiple channels provide unrestricted airflow. This effective heat management greatly reduces the need for active cooling, which decreases fan and airflow noise.
Comparison Pro And Blue
G5 BLUE
The aquarium light for those who know exactly what they want. The Gen 5 Blue is full-spectrum, but LED selection favors the Blue channels and high output for use with our Corallab AB+ spectrum.
Put all of your power into Blue.
Full Spectrum
10 Channels
Blue Dominant LED Mix
Proven CoralLab AB+ Spectrum
Spectrum selection guarantees simple results
G5 PRO
From Aquaculture to the home aquarium, there is a high likelihood that the coral you know and love has been grown or "colored-up" under a generation of Radion Pros.
Powerful. Flexible. Proven.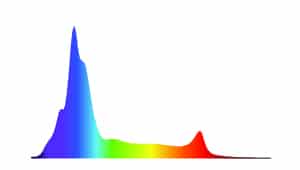 Full Spectrum
10 Channels
Radion Pro's Balanced LED Mix
Proven Halide Spectrum and Previous Pro Spectrum
Flexible Spectral Output
SPECIFICATIONS
XR30 G5 PRO
The industry standard for high output. Comprehensive spectrum and performance.
Dimensions
Length

11.8in.(30cm)
Width

7in.(18cm)
Height

1.5in.(3.9cm)
Weight

4.5lbs.(2041g)
Power Specifications
Power Consumption

215W
Universal Input Range

100-240VAC, 50/60Hz
Peak Inrush Current

4.0A
LEDs
Colors

24
Cool White
32
Royal Blue
16
Blue
4
Photo Red
6
Green
4
UV(415)
4
UV(405)
4
Violet
6
Warm White

2
Lunar Light
Mobius
Smart Devices
Control without a controller
You've invested in your ecosystem with the smartest and most capable EcoTech® equipment. Now unlock the true potential of this system with nothing more than an app on your smart device.
 Brilliant
Everything you want and nothing you don't in aquarium equipment control. A decade to develop, but seconds to set up. Empower your ecosystem with smart devices on a control platform that unleashes all their capabilities.
Powerful
The Mobius interface is built to utilize the communications, convenience, and familiarity of your favorite smart device. If you can use your phone, you can create the perfect environment for your biotope. If you can imagine a task for your equipment, you can craft it with scenes and routines.
Free
Straightforward and just how you like it. Mobius is free. Seriously. Get it now – it's on your favorite app store. It's incredible and costs nothing, so start your journey today.
Mounting Options:
The Multi-Light RMS offers a customizable multi-light mount solution for Radion XR30 and Radion XR15 lights. The Multi-Light RMS system features:
Built-in cable management
Compatibility with rimmed, rimless and euro-braced tanks
Rigid yet lightweight construction
Anodized aluminum finish
Slide mounts for horizontal and rotational adjustment
Optimal mounting for Radions at approximately 7 inches (18 cm) above the edge of the tank
These two specialized kits are designed for XR15 and XR30 model Radions. Each kit contains everything needed to mount a Radion light on almost any standard or rimless tank.
Each kit contains multiple sliding rails and a rotatable x-bracket, allowing you to easily position your Radion precisely where you need it.
---
Share this Product
---
More from this collection